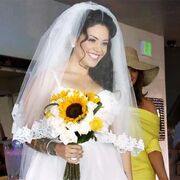 Jacquelin Melina "Jacqui" Campos (born: Jacquelin Melina Marín) is Jenni's second oldest daughter who was born on November 30, 1989 (age 27). Marin also has a daughter named Jaylah Hope Yanez who is 4 years old, and married to Michael "Mike" Campos, who together reside in Whittier in Long Beach, California. Her father, José sexually abused her, Chiquis and her tía, Rosie. Jacqui's father was sentenced to more than 30 years in prison. In 2013 Marin designed a Christian T-Shirt line. She's a Christian. In 2012, Jacqui's brother Michael Mikey Marin, had his daughter named Luna which made Jacquelin be an aunt and made Jenni be a grandmother again. Besides Jacquie she has 4 siblings: 2 girls, and 2 boys. Janney Marín (born June 26, 1985 (age 31), Michael Trinidad-Angelo Marín (born September 11, 1991 (age: 25), Jenicka Priscilla López (born October 3, 1997 (age: 18), and Juan Ángel "Johnny" López (born February 11, 2001 (age: 15). In 2013, Jacqueline made a video me point in her life she was in love with a woman. Jacqueline hasn't only been apart of I Love Jenni as one of the main stars, but José also made appearances on Jenni Rivera Presents: Chiquis & Raq-C EM and Chiquis 'N' Control.  Marin lost her mother on December 09, 2012 due to a plane crash. On June 26, 2013, Chiquis birthday, Latin Gossip published an article announcing Jacqui is pregnant with her second child. The second child would have been Jenni's third grandchild. In I Love Jenni Jacqui announced she and Rosie were no longer on drugs and alcohol. On March 2014, Jacqui gave birth to her second daughter with Mike, a girl named Jenavieve Faith was born on March 25, 2014
Ad blocker interference detected!
Wikia is a free-to-use site that makes money from advertising. We have a modified experience for viewers using ad blockers

Wikia is not accessible if you've made further modifications. Remove the custom ad blocker rule(s) and the page will load as expected.