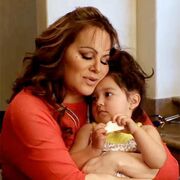 Jaylah Hope Yanez (born November 18, 2009) in Long Beach, California to parents, Jacqui Marín and Danny Yanez. Jaylah's grandma is Jenni Rivera.
I Love Jenni: Jaylah
Edit
Jaylah's first appearance was in Growing Up Rivera where Chiquis and the family organize a birthday bash to celebrate Jacqui's 21st birthday and Jaylah's 1st birthday. In From 'Buela to Jaylah Jacqui notices how much Jaylah spends time with Jenni and decides to not let Jenni be with Jaylah. But when Jacqui listens to Jenni's speech at the Childrens Hospital she realizes that Jenni is a good example for Jaylah. Jacqui gifts flowers to make up for her attitude and now allows to spend time with Jaylah. Jaylah's last apperance was in Life is But A Dream where the entire Rivera Family travels to the Grand Canyon.  At the end of the episode and season the family writes prayers and send them lighting up with a candle. 
Childhood
Edit
Jaylah was born on November 18, 2009 (age:4), in Long Beach, California to parents Jacqueline Marin, and Danny. Jaylah Hope Yanez means Bonita esperanza (Pretty Hope in Spanish.). Even though Jaylah's father is Danny Jacqueline married Michael Campos (nicknamed Mike), which makes Mike Jaylah's stepfather. Janney Chiquis Marin, Jenicka Lopez, Michael Marin, and Johnny Lopez are all of Jaylah's aunts and uncles even though Johnny is too young to be a uncle. Jaylah's grandma is Jenni Rivera but Jaylah's grandma passed away on December 09, 2012. On March 25, 2014 Jaylah had a baby sister named Jenevieve Faith.