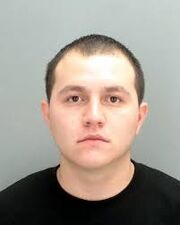 Trinidad Angelo "Michael" Marín is the first oldest son of Jenni Rivera. He was born on September 11, 1991 (age 26) in Long Beach, California.
Early Life
Edit
Mikey was born on September 11, 1991 (age 26) in Long Beach, California to Dolores Janney "Jenni" Rivera & José Trinidad Marín. Mikey has 4 other siblings, Chiquis (born: Janney Marín; June 26, 1985 (age: 32), Jacquelin Melina "Jacqie" Marín (Born November 30, 1989 (age: 27), Jenicka Priscilla López (Born October 03, 1997 (age: 19), Juan Ángel "Johnny" López (Born February 11, 2001 (age: 16).
Personal Life
Edit
Michael had to go through a court case when he was accused of molesting a women. In February 2013, he arrested for vandalism. Michael's girlfriend, Andrea "Drea" Ibarra had a baby girl named Luna Amira Marín and made Jenni a grandma again. Marin's father was sentenced to more than 30 years in prison due to sexual abuse to his sisters, Chiquis & Jacqie and his tía Jenni's sister, Rosie. In I Love Jenni it was revealed Marin was the owner of his dog, Dirty. His sister Jacqueline has a daughter named Jaylah Hope Yanez which makes Michael, Jaylah's uncle. Marin is apart of the main cast of I Love Jenni. On December 09, 2012 Marin lost his mother due to a plane crash. Months after Marin got a tattoo on his left arm of his mother, Jenni.